Bharati Vidyapeeth English Medium School Lohegaon Pune
Information
| | |
| --- | --- |
| Year of Establishment: | 2013 |
| Address: | Sr. No. 35, Mauje Lohegaon, Wadgaon –Shinde Road, Lohegaon,< br> Pune-411047 |
| Phone: | 020-20271975 |
| Fax: | - |
| Website: | - |
| Email: | This email address is being protected from spambots. You need JavaScript enabled to view it. |
| Board: | CBSE |
| Constituent Unit of Bharati Vidyapeeth Since: | 2013 |
| Affiliations if any : | 11/07/2006 |
| Head Master / Principal: | Mrs. Maushmi Gaikwad |
| No. of Teachers: | 20 |
| No. of non teaching staff : | 13 |
| No. of Students: | 400 |
| Achievements: | - |
| Highlights: | - |
| How To Reach : | - |
Achievements / Awards
International Olympiads
BVP, Lohegaon is proud to announce our presence in the Silver Zone International Olympiad of Science, Maths, English and Computers 2015 and 2016 list. More than 150 students of our school have participated in the Olympiads and our students have moved up in ranking when compared to last year. Students won 17 Gold medal, 14 Silver medals and 10 Bronze medals this year.
Principal Mrs. MaushmiGaikwad and Coordinator of the school Mr. ArvindTambehas also been bestowed with the Award for their contribution in conducting the Olympiad in the school,for the 2ndtime in a row.
Inter- School Competitions
Our students participated in the Inter School Group Singing Competition organized by BharatiVidyapeeth School Association, where their performance was highly appreciated.
In the recently held Inter School General Quiz Competition organized by Ingenious 2015-16, Our students – Diptarko Lahiri, Suraj P.S. (Grade 5) and Abhishek Shinde, Divij Tyagi performed very well and obtained Consolation prize among 20 schools from Pune comprising of 100 students.
Our school take part in District level General Knowledge tests every year, as a main centre.
'Junior Indian Idol' auditions are also organized for the students in the school campus.
'DAZZLING STARS' Inter-Pre School Dance Competition
BVP, Lohegaon has been successfully hosted the Inter-Pre School Dance Competition "Dazzling stars" since last two years, in the school Campus. Around 15 Pre-primary schools had participated in this competition, both in 2015 and 2016. The tiny tots of all the participating Pre- primary schools have been given a wonderful platform to showcase their dancing talents and we witnessed the teams performing with full zeal and enthusiasm. The winners were awarded with trophies and many exciting prizes along with certificates.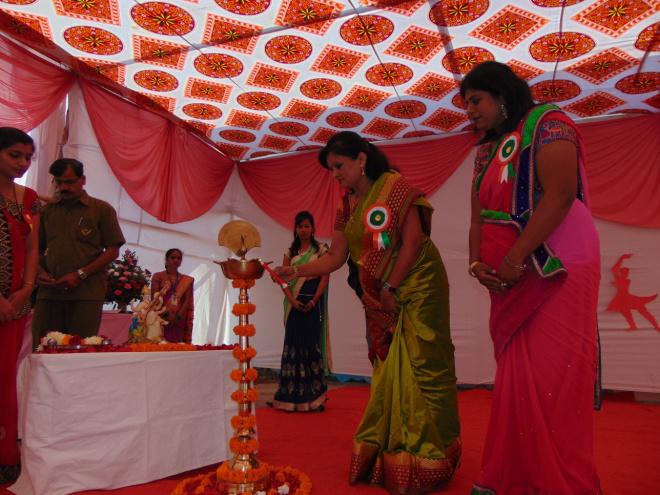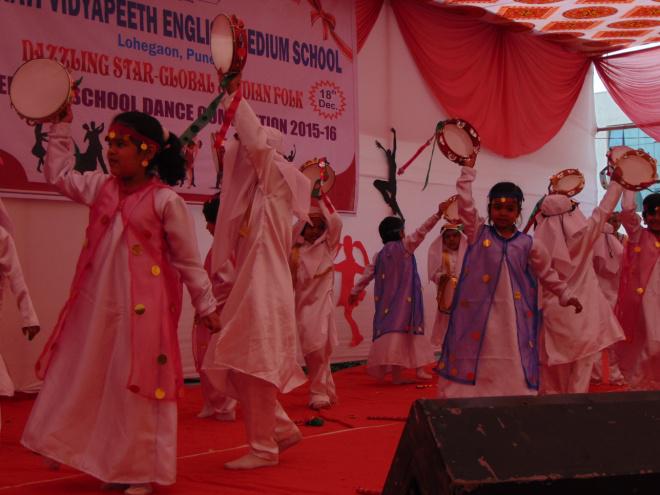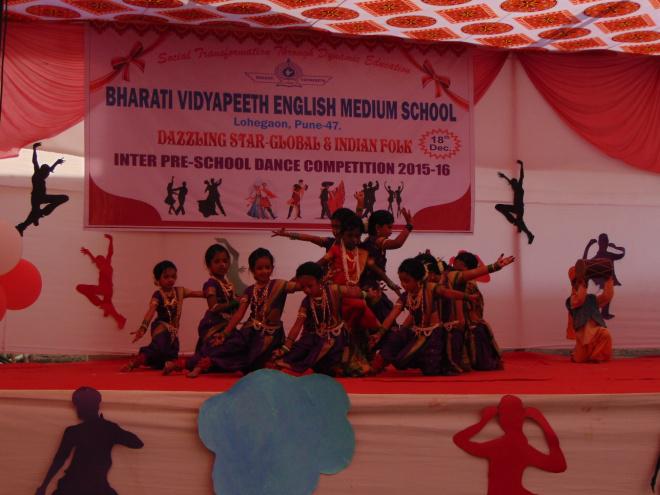 Highlights
BHARATI VIDYAPEETH ENGLISH MEDIUM SCHOOL, LOHEGAON (CBSE)is an educational organization renowned for being the best school in Lohegaon area for its infrastructure, high tech labs, Smart technology based classes and well stocked and updated library. Apart from academics, we lay huge emphasis on value education, an education in which students are made conscious and aware of the changing times and the needs which arise regularly. Constant striving staff of teachersnever fail to observe the budding enthusiasm, curiosities and vibrant streaks of learning something new in young enthusiastic learners of our school.