Students Testimonials

From the beginning days, when I was starting my degree from the college of Y.M., in India. I really enjoyed it, particularly the writing and the theory aspect, and I felt I could continue with this, when I came to India. Once I had decided that, I was going to study, I looked up different universities and colleges, that offered courses in commerce, and I chose the college of Yashwantrao Mohite in Pune. After going through prospectus and the university website, I felt that the content of the course, the education system and the way the course was structured, suited my needs. My aim and ambition is to be a writer, and I felt I might be able to realize it a bit better here.

- Mr. Abdihhah Mohamed Sahum
F.Y.B.Com

The course has been good, I have enjoyed because of the way the modules are scheduled. There is a lot of flexibility, so you can do other things. I really enjoyed it. Particularly the writing and the theory aspects, when I came here at Pune, every thing was new to me but as the time goes on , I am now enjoying my studies.

The university's facilities and location were also deciding factors. Bharati Vidyapeeth Deemed University is the place for achievements and academic success. I decided to join the BVDU because the course addressed mordern academic aspects of commerce course.

- Mr. Shaibu H. Tagalile
F.Y.B.Com

It has been four years since I came to India for my degree study in Bharati Vidyapeeth University College of Engineering. Since my arrival in the college my life has been full of excitement and inspiration. I got my excitement from my studies (Civil Engineering) through the knowledge given in the lectures and practicals in the laboratories. I have been inspired by my head of department and the rest of the staff in the department and also my fellow students in class, department and college as a whole.

Throughout the course of my studies, I have been able to develop as a student by knowledge acquired and as a person due to encouragement I received by all.

- Mr. Nelson Anatali
B.Tech (Civil)Sem-VII

I came to India for studying post graduation. I selected Bharati Vidyapeeth University because it is one of the best universities in India. The organization provides so many facilities for learning and updating our knowledge. Right now I am very happy to be here and I am thankful to the entire staff members and colleagues.

- Gholam Reza Kaka Manshadi
M.Tech (Computer Engineering)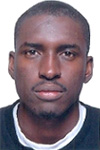 Institute of Management & Entrepreneurship Development, Pune
The BCA course taught here is very advanced. Lab sessions and practical contribute a lot in academic progress. Each student gets computer for practice in lab. It is very important to do practice on programming languages. Educational system is very good. It helps to improve personality as well as overall aspects towards life. The staff is cooperative and teachers always help students. There is International Student Cell facility at university and institutional level , which is taking care of foreign students and always ready to solve their problems. The value added programs like English Communication, Foreign student's Meet, seminars, guest lectures conducted at the institute help to foster students' confidence. IMED, my institute, has played an important role to build up my career. I enjoyed education here!
- Fidelis Charles Njau.Tanzania
B.C.A.

BVDU, Medical College, Pune
My decision to study in India wasn't an easy one to make; the thoughts of new people, different learning systems and new environment were all frightening. When I came to India for pursuing medical studies, I was quite anxious about the way the educational system worked in this university, the pedagogy and the peer culture. But to my surprise the medical college turned out to be one of my greatest and most enriching experiences in terms of learning, skill development and skill diversification.
The program no doubt was rigorous but the faculty was very motivating. They gave personal attention to each student academically. The best were the clinical years. Not only were they theoretical but also experiential. Both the faculty as well as the staff made the learning experience enjoyable and intellectual. The last few years of the medical school have been the best ones in my life. The medical program not only made me better academically but also helped me test my capabilities to further excel in this field.
- Bhoomi Patel
MBBS.

Poona College of Pharmacy, Pune
When I started searching for good universities and institutes offering pharmacy education in India, my friends who are studying in India, suggested Poona College of Pharmacy of Bharati Vidyapeeth (Deemed to be University), Pune as one of the premier and top ranking colleges in the field of Pharmaceutical Sciences. It is accredited with "A" grade by NAAC and NBA.
I feel fortunate to be a student of this college. We are blessed with very senior and experienced faculty as well as state of art laboratories with sophisticated and advanced instruments on which students are allowed to work themselves. The college has a very conducive atmosphere for education and research, as it offers M. Pharm. and Ph.D. programmes. Also that allows one to continue their higher studies in the same college. We get plenty of opportunities to develop our all round personalities not only through excellent academic atmosphere but also through various co-curricular, cultural and sports activities.
- Behnaz Shabab. Tehran, Iran.